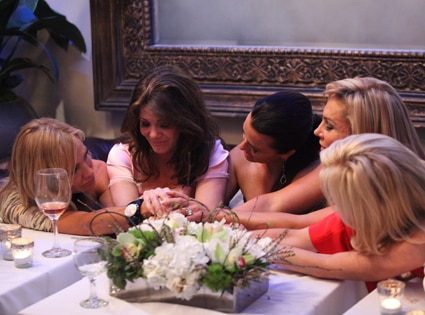 Lisa Vanderpump's daughter, Pandora, wanted to avoid a battle royale at her wedding. And tonight she got her wish—the Beverly Hills nuptials held at the family's mansion were picture perfect. Of course, that didn't keep Lisa from freaking out over every little detail.
Or the Bravo producers having some fun at the expense of Paul Nassif's dignity.
You're cordially invited to our recap of the the second season finale of the Real Housewives of Beverly Hills...Continuing in the show's TMI tradition, Paul got a colonoscopy on TV. (Thank God Adrienne Maloof drew the line at giving him an enema, or we'd be treated to even more detail.)
We get it, encouraging people to get checked for polyps or cancer is a noble effort, but there was no dignity in watching Paul pass gas in bed, especially since it sounded like the noise had been enhanced in postproduction. Um, really, guys, was that necessary?
If Lisa decides to preserve this episode on her DVR, may we suggest deleting the first five minutes. Just saying. Of course, watching herself run around while wondering why they didn't just have the wedding at the Beverly Hills Hotel may not be worth preserving.
Chi-chi-chi wedding planner Kevin Lee was MIA until just before the ceremony—the man does have his own reality series on TLC to attend to. But Lisa probably would have worried regardless. The $9,500 cake needs to be decorated. The flowers aren't right. The transformed tennis court doesn't look intimate enough. Hubby Ken Todd's still writing his speech an hour before the wedding.
"I'm a control freak," admitted Lisa in the understatement of the year. At least no one crashed this party. (We're pretty sure La Toya Jackson was meant to be there, right?) And somehow, the family even found the one man in L.A. who doesn't want to be on TV to perform the ceremony. Or maybe he was imported from some place where doctors and priests don't hand out head shots.
Luckily for Pandy, it was classiest—and possibly most expensive—party thrown this season. "It definitely looked like a million dollar wedding," cooed Camille Grammer. "I don't know how much she spent, but Lisa is smart enough to not spend that much money."
She may have a point. Pandy looked gorgeous in her Ian Stuart princess gown, but it only cost $6,000. Remember, this is Bev Hills. That's budget pricing in this zip code! Three weeks later, Kyle Richards managed to have another drama-free get-together.
The worst has finally happened, Russell Armstrong is dead, and Kyle's worried about Taylor and Kennedy. "Since Russell died the girls have not seen a lot of Taylor. It's time for her to come back to her friends so we can support her."
Kim Richards is not there, of course, but Kyle says it's better this way. "In order for us to get along, I have to not say anything." The show then provides updates on all the women, though in some cases, a peek at headlines would have been more timely:
"Taylor has been trying to keep afloat after the tragedy. Facing financial and legal issues, she's publishing her memoirs."
"Camille and her beau are still hot and heavy. Emphasis on the hot." (She's also dealing with her ex and his new wife's pregnancy and rumors she's being replaced next season.)
"Lisa and Ken downsized to a 10,000 square foot home…and promptly added 2,000 more." (She's also rumored to be in talks for her own spinoff show.)
"Adrienne is celebrating her shoe line's success…and having a new neighbor across the street."
"Kim is not pregnant. She checking herself into a drug and alcohol rehab program in December." (She's since been released and is "moving forward.")
"Kyle wrote an advice book for women. It includes a chapter on sisterly love."
"Looking back on this year, I see the roller coaster of emotions we've all experienced, and we've found a way to also be supportive of each other and, overall, we've come out stronger as women," says Adrienne, summing up season two.
So, what do you think? Was this a satisfying end to such a dramatic season? Do you wish more loose ends had been tied up? Was the wedding wayyy classier than you expected from Kevin Lee? Weigh in below with your thoughts on tonight's episode!